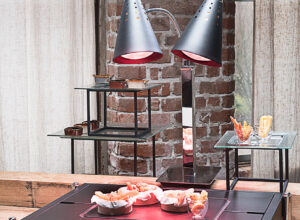 Are you looking to create a truly impressive and modern buffet setup that leaves a lasting impression on your guests? Look no further than our top-of-the-line carving stations and exquisite heat lamps – a perfect combination that adds a touch of sophistication and style to any event.
Tiger Heat Lamps: A Perfect Blend of Elegance and Functionality
Our Tiger heat lamps are the epitome of elegance and practicality. Crafted with a sleek stainless-steel structure and featuring an adjustable neck, these heat lamps exude timeless charm and contemporary edge. Whether you're using them to keep breads, pizzas, and appetizers warm, or as part of a captivating carving station, our heat lamps will elevate your buffet to new heights.
Available in both single and double designs, these heat lamps offer versatility for any setup. The stylish lamp shades not only ensure an even distribution of heat but also add a sophisticated touch to the overall presentation. You have the choice between a striking black powder-coated finish or a vintage bronze PVD finish, allowing you to tailor the lamps to suit your unique style and event theme.
The Magic of Heating Lamps:
Heating lamps, also known as heat lamps or food warmers, are a boon for buffet setups. These versatile devices work by emitting a controlled amount of heat that keeps food warm without overcooking or drying it out. The use of heating lamps allows chefs to display a wide range of dishes without compromising on taste and texture. Here are some key advantages of incorporating heating lamps into buffet arrangements:
Extended Serving Time: By preserving the warmth of the food, heating lamps enable an extended serving time. Guests can leisurely enjoy their meal without rushing to get to the food before it cools down.
Food Safety: Properly maintained heating lamps minimize the risk of foodborne illnesses, as they keep perishable items out of the temperature danger zone. This is particularly crucial for buffets where food is exposed for longer durations.
Carving Stations: A Culinary Showcase with Endless Versatility
Our carving stations are designed to be both functional and stylish, making them a must-have for any catering professional or hospitality venue. Featuring a durable black high-temp food-safe polyethylene carving surface, these stations provide a perfect platform to showcase your culinary creations.
Worried about post-event cleanup? Fear not! All parts that come into contact with food are dishwasher safe, ensuring easy and hassle-free maintenance. Moreover, the convenient cavity under the carving surface captures any juices, keeping your display area immaculate throughout the event.
Stackable design takes the convenience up a notch, making storage effortless when not in use. Whether you're hosting an upscale wedding reception, corporate gala, or any other special occasion, our carving stations are guaranteed to impress guests and streamline your buffet service.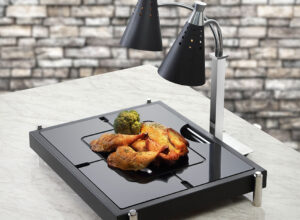 The Art of Carving Stations:
Carving stations are a classic addition to buffet setups, adding an element of sophistication and engagement. These stations typically feature large cuts of meat, such as roasted turkey, prime rib, or ham, which are carved on-demand for guests. Here's why carving stations are a must-have for any buffet event:
Visual Appeal: The sight of a skilled chef expertly carving succulent meat is visually enticing and serves as a focal point for the buffet display. The presentation enhances the overall dining experience and can leave a lasting impression on guests.
Customization: Guests have the liberty to request their preferred portion size and meat cuts, allowing for a personalized dining experience. This level of customization adds a touch of exclusivity to the buffet affair.
Interaction and Entertainment: Carving stations promote interaction between guests and chefs, fostering a sense of connection and entertainment. The live carving experience adds an element of culinary theater to the event, captivating and delighting attendees.
A Winning Combination: Elevate Your Buffet Today
By combining our Tiger heat lamps with our versatile carving stations, you'll create an unforgettable buffet experience that sets your event apart. The heat lamps not only keep your dishes warm and inviting but also add an air of refinement to your presentation. Meanwhile, our carving stations ensure a seamless and elegant display of your culinary delights, leaving guests in awe.
So, whether you're a seasoned catering professional or a hospitality enthusiast hosting an exclusive event, our heat lamps and carving stations are your ticket to a truly extraordinary buffet setup. Explore our range of styles and finishes to find the perfect match for your occasion.
Elevate your buffet to the next level with our stunning heat lamps and carving stations. Remember, a well-executed buffet isn't just about the food; it's about the entire experience. Tiger heat lamps & carving stations, you're well on your way to creating dining spectacle that guests will cherish forever.