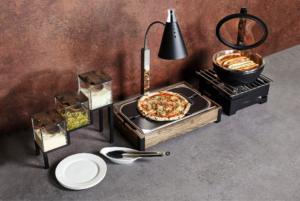 Are you tired of the same old boring buffet setups and lackluster catering trolleys? Well, get ready to be blown away because we have discovered a game-changer in the world of buffet solutions and catering trolleys. catering and buffet solutions, innovation, and aesthetics go hand in hand. Introducing "The Natural Series," a revolutionary collection that seamlessly combines functionality, versatility, and organic touch.
Introduction to 'The Natural'
The Natural series is a recent addition to the Tiger range, specifically designed to combine elegance and functionality in the buffet scene. Its ashwood structure is further enhanced by a black Steel finish on the corners, ensuring increased durability even in tough professional environments.
The Natural crates are available in different sizes, including GN 1/1 and 2/3, with varying heights. They are designed to be stackable, allowing for efficient storage and organization. The magnets inserted in the corners play a crucial role in keeping the different elements well-aligned in the buffet setup, enhancing the overall sense of elegance and tidiness.
If you're looking for a buffet solution that will wow your guests, look no further than The Natural. Contact us today to find out more about this incredible product!
Benefits of 'The Natural' Buffet Solutions and Catering Trolleys
Unleash the Beauty of Nature: The Natural Series buffet ware brings the beauty of nature to your dining experience. With its intricate design and meticulous attention to detail, this collection evokes a sense of authenticity and sophistication. Each piece is carefully crafted to emulate the rustic charm of a fruit box, adding a touch of natural elegance to your buffet presentation.
Leading the Way with Quality and Technology: Tiger of South Korea is at the forefront of driving innovation in the buffet ware industry. With their unwavering commitment to quality and technology, they continue to push the boundaries of what is possible. The Natural Ecosystem is just one example of their dedication to creating long-term solutions to age-old problems.
Versatility at Its Finest: Within the Natural collection, you will find a brand-new porcelain dispenser designed for serving milk. This dispenser is available for both cold and hot serving, catering to different preferences. Additionally, the collection includes a coffee urn and a mini carving station, offering versatility in meeting various buffet requirements.
Improved Hygiene: The Natural's enclosed design helps to keep food fresh and free from contaminants. To ensure maximum hygiene, dome covers are provided for the Natural series. These covers help to protect the food and maintain its cleanliness, contributing to a safe buffet experience.
Case Studies of Successful Use of The Natural
In the hospitality industry, first impressions matter. Your buffet solutions and catering trolleys are a reflection of your brand and can make a lasting impression on your guests. Discover "The Natural": A game-changer in buffet solutions and catering trolleys that will take your business to the next level.
The Natural is an eco-friendly, modular buffet system that is taking the hospitality industry by storm. Its sleek design and versatile configuration make it the perfect solution for any buffet or catering application. The Natural is made from 100% recycled material and is fully recyclable, making it the most sustainable buffet solution on the market.
The Natural has been used in a variety of successful applications across the globe, including:
•A five-star hotel in Dubai that transformed its breakfast buffet with The Natural, resulting in a 30% increase in sales
•A leading catering company in London that increased its trolley capacity by 50% with The Natural
•The hotel chain in Australia that saved over $10,000 in annual costs with The Natural's energy-efficient design
These are just a few examples of how The Natural is helping businesses like yours succeed. If you're looking for a way to take your business to the next level, Discover "The Natural": A game-changer in buffet solutions and catering trolleys today!
Conclusion
The Natural Ecosystem showcases the power of innovation and the relentless pursuit of excellence. By seamlessly integrating technology, functionality, and aesthetics, Tiger Company has once again proven why they are a leader in the industry. It's time to embrace the future of buffet service with the Natural Ecosystem.
Overall, The Natural Series buffet ware is a stunning collection of catering equipment that is perfect for businesses that want to create a warm and welcoming atmosphere. When it comes to catering equipment that combines beauty, versatility, and innovation, The Natural Series buffet ware stands out.
Its stunning resemblance to a fruit box, coupled with its natural and organic look, makes it a captivating addition to any dining setting. Whether you are running a casual cafe or a high-end restaurant, The Natural Series buffetware is the perfect choice for your catering needs.